Get AMAZON TOP REVIEWERS to review your book!
A book review by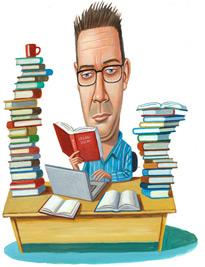 Amazon Top Reviewers contributes greatly to the sales success of new books listed on Amazon.com.
Get your book noticed
Request top Amazon book reviewers to review your book.
Top Reviewers' have reviews appear above all other reviews, sometimes permanently.) So reviews by Amazon Top Reviewers tend to have more impact simply because they're much more visible. Their reviews are also highly valued by the Amazon community & buyers.

AMAZON TOP REVIEWER PROMO EBOOK:
Our ebook includes:
List of 50 Top Reviewers

how to reach Top Reviewers

reviewer ranking #

reviewer contact information: (email and/or websites or Twitter/Facebook accounts)

sample contact letters

strategies & tips

This is a recognized strategy to boost your visibility in Amazon.com. Questions? email us: safeinthewoods@gmail.com
Order Now! only $6.95 (emailed to your Inbox)

CASE STUDY:
When Keith Donohue's novel "The Stolen Child" came out From Doubleday, the critics weren't impressed. Not a single major newspaper reviewed the book.

But the story wasn't over. Amazon's merchandising director liked the book & she mailed opies of the book and mailed them to Amazon's most active customer reviewers.

Within weeks, all but one of those Amazon Top Reviewers posted a rave review. Promptly, Stolen Child became Amazon's bestselling fiction book, and it reached No. 26 on the New York Times extended bestseller list, an unbelievable climb for a novel with no big newspaper or trade reviews. Now the book is in its eighth printing .

All this caused quite a stir in publishing circles, but it didn't surprise the folks who actually buy books. Increasingly, readers turn to online reviews written by peers to find out if a book is worth buying.